The Batch Scan application allows the user to place single or multiple document scans into user designated batches/groups prior to indexing.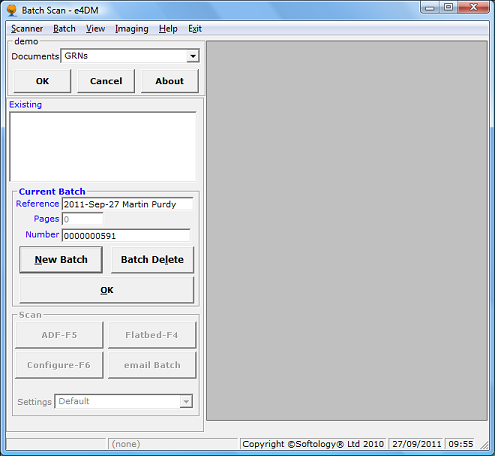 Step 1 - Scanner

Prior to running Batch Scan ensure scanners are powered up and connected to the PC.
Batch Scan will automatically select the default scanner.
To select a different scanner:

Choose Scanner from the menu
Then choose Select which provides a choice of available scanners.
Choose the appropriate scanner.
Subsequently the applications main window will now be accessible.

If a scanner is not currently available a source troubleshooting window appears.
Step 2 - Document type

The drop down box contains all currently available Document types.
Select the appropriate Document Type.
Select OK to display all current batches for this Document type.
Cancel to cancel the previous selection.
Step 3 - Batch
The scrollable window contains all current batches.
Select New Batch to create a new batch and proceed to Step 4
OR
Select an existing batch from the list.
Select Delete Batch to delete the batch.
Select OK to add to the currently selected batch.
Step 4 - Batch Information
Information concerning the currently selected batch is displayed
Batch : represents the system name of the selected batch.
Pages : represents the number of images within this batch.
Reference : Indicates any internal reference number entered, by a user, for descriptive purposes when using the e4DM batch indexing application.
The system default is the user login and current date.
Step 5 - Scanning

The three buttons are active only if a valid scanner is present.
ADF Scan - F5 : selection or the F5 key starts the automatic document feed scanning.
Flatbed Scan F4 - : selection or the F4 button starts flatbed scanning.
Configure Scanner F6 : selection or the F6 button allows scanner configuration.
The fourth button is active only if images are scanned.
email Batch : selection will allow the emailing of all images in the batch.