The Quick View application allows users to efficiently retrieve indexed cases from their database using limited information. The retrieved cases are then viewed according to
parameters
set by your administrator.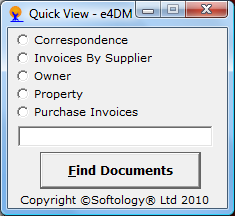 ---
Data Entry
---
Select the type of documents to find from the selection of templates provided. There will be no selection displayed if
access
is allowed to only one template. The program will not load if access is not allowed to View/Search any
Document Type
specified within the
Quick View Templates
. Enter the required document reference to search for. Documents will either be displayed immediately via
SoftView
, or as a tree display categorising the index data which will enable the users to view a various grouping of documents. The tree will be displayed if a tree view intercept has been assigned in the template.
---
Buttons
---
Either press RETURN or click the
Find Documents
button (also accessed via ALT+F). The documents will be displayed in either
SoftView
or
Tree View
. A warning notice displayed if no documents are found and they are to be displayed through e4DM SoftView.