Mobile Document Management
Softology's MobileDM is a Document Management System (DMS) for mobile devices (and static computers) where documents are viewed through a WEB browser. This means that you are connected to your office documentation wherever you go, as long as you have WiFi, or access to a mobile telephone network. You now have an electronic work management system that can be refined and tuned to your exact business requirements, delivering precise control over every aspect of the process. Mobile DM
MobileDM is particularly suited to smart phones and tablets, as well as laptop and notebook computers. It is ideal for tablets and phones because we optimise images so that they can be delivered to the device quickly. See more. Document transfer processes
It makes good sense to capture documents on your scanning station or MFD at your office and for those documents to be stored on a server or other computer designated as a document store, especially so for secure backup. See more. Viewing documents
When the documents are uploaded, security and role information is uploaded with them thus transposing in-house security to the cloud slice. See more. Searches, trees and viewing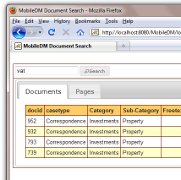 Over time, we will be adding layer upon layer of powerful searching facilities to MobileDM in order to fully exploit the mix of information stored in the relational model and the IR (information retrieval) model. This will include full text and fuzzy searching. Furthermore, we will be adding the tree functionality that is so popular in our destop Softology DMS system. Softology's Document Folios
Softology's Document Folios are a new and extremely powerful presentation facility. Folios can be made using Softology's DMS by a user with the requisite permissions (the folio owner) , and uploaded automatically to the Cloud Slice. See more. Smart phones
The development of increasingly capable smart phones means that document viewing is viable as long as the documents can be delivered to the phone in a timely fashion. See more. Desktop and notebook/laptop computers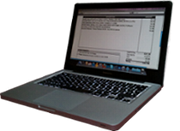 Where an office computer is not attached to a VM on an in-house system, or when Softology's DMS client is not installed, the user may have access to MobileDM through Internet Explorer or Firefox etc. Optionally, the user may have access to folios to work on away from the office. Tablet computers
With over fifty tablets being launched at the Las Vegas Consumer Electronics Show, and an impending doubling of tablet processing capability, tablet computing is promising to become a disruptive innovation over the course of 2013. As well as Apple with iOS on the iPad, key contenders for market domination seem to be Google Android on Samsung and Motorola (and many others), Research In Motion on the Blackberry tablet launched as The PlayBook, HP's tablet based on webOS and Microsoft Windows 7. We have tested MobileDM on Android devices as well as the iPad using their native browsers. Our intention is to develop native apps for each device over the coming year, with the ultimate objective of a 'connected or stand-alone' application available on these major platforms. In-house server
By in-house server we are referring to a server or workstation that acts as your primary document repository. This is where your documents will be located once they have been scanned and indexed, or saved in the case of office and other programs.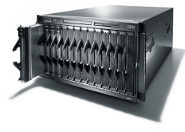 It is good practice to scan incoming paper work and save in-house produced documents to a document repository, because they can be securely backed-up and they are available on the fast in-house network. Cloud Slice
The Cloud Slice is a Virtual Server located at an internet service provider's premises (a server farm usually). Softology's MobileDM runs as a service on a Cloud Slice and the slice can be a Linux, MacOSX or Windows server. Your documents are copied to the MobileDM on a regular basis. In effect, obileDM is acting as a document server and also a backup mechanism because your documents can be stored offsite. You may determine the amount of time your documents are kept on the Cloud Slice. This may be from 3 months to years, although the cost of storing your documents permanently on a Cloud Slice will be more costly because you will need to rent increasing amounts of disk space. We are anticipating a typical document life on MobileDM of three to six months, and any folios may be renewed indefinatley (bearing in mind disk storage space). Auditing
Any on-line activity from logging in and out, to making comments will be audited, thus complying with BSI BIP0008. Read more about BSI BIP0008 here. Implementation timetable
Please note that this is a guide and will be subject to change without notice. Q3 2012 Automated upload functionality for documents and secuity information.
General searches including fuzzy search.
Template based searches.
Mobile DM image processing and viewing.
Notes.
Folios.
Tree viewing.
E-mail sending

Additionally in no order
Routing.
Case processing including new post and invoice approval.
Mobile applications for:
iPad and iPhone
Android devices
RIM (Blackberry) PlayBook
HP webOS tablet
Windows 7 tablets